Choosing a Happy, Healthy Puppy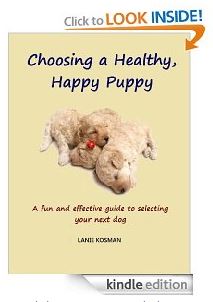 Have you thought about getting a dog and don't know where to begin? Choosing the perfect dog is simple once you know the expert's tricks. This book teaches you everything you need to know about gauging a dog's personality and will help you find the breed that's right for you.
Traditionally, people choose a dog based on their initial gut reaction and what they believe will make a good pet. This could potentially cost them hundreds, even thousands of dollars for a purebred plus potential medical expenses. All this for a dog that isn't the right match for them. This guide includes time-tested tests for a dog's personality, with an extensive breakdown of dog breeds by factors like energy level, if the breed is hypo-allergenic, and if the breed is easy or hard to train. The guide even helps you choose between a male or female dog.
You'll learn which breeds are:
best for children
best for active people
intelligent
bark the least
the easiest to train
active or quiet
best for allergy sufferers
Do you want to adopt a dog? The Choosing a Happy, Healthy Puppy guide has valuable tips on:
deciding which dog to pick at a shelter
temperament testing shelter and rescue dogs
why a shelter dog can be a fantastic choice
the benefits of adopting an abused or neglected dog
the heart-warming benefits of rescuing an adult or senior dog
New dog owners make a single, critical mistake when getting their new dog or puppy. This one mistake ensures they either spend too much money for their puppy or may get a puppy with heartbreaking behavioral and health issues.
The knowledge to fix this single mistake is a small investment that can boost the chance of bringing home a happy, healthy, adorable new dog.
What is this one mistake that costs new dog owners so much money and heartache? It's believing they know enough about dogs to pick what's right for them when in reality most people don't know enough to make an informed decision on getting something that will be with them for possibly the next 20 years.
One of people's major areas is failing to spot a disreputable breeder or puppy mill puppy.
The 32-point checklist that is included in Choosing a Happy, Healthy Puppy will help you spot a bad breeder or puppy mill almost instantly! You could easily be mistaken for a professional breeder with the facts you learn in this book.
Our comprehensive 222 page downloadable guide will tell how to…
avoid dirty, unethical, puppy mills!
avoid overpriced breeders!
choose the perfect dog for your family
find a great breeder
save money on a purebred puppy
if a purebred or mixed breed is right for you
pick the right puppy from a litter
tell if a male or female is better
tell if the puppy is healthy
test the puppy's personality
avoid disreputable breeders and puppy mills
and much, much more!
I've developed and refined this guide with the help of experienced, trained dog breeders and expert dog trainers. The Choosing a Happy, Healthy Puppy dog guide uses simple checklists, extensive tips, and an easy to read layout to ensure you'll find the perfect puppy.
Benefits of the Choosing a Happy, Healthy Puppy Dog Guide…
expert breeders tell you how to choose a reputable breeder
written in easy to understand language
become an instant expert on testing if a dog's personality is right for you
created and refined by dog experts and expert breeders
eliminate the hundreds of hours of training traditionally required to learn all about assessing dog personality and breeds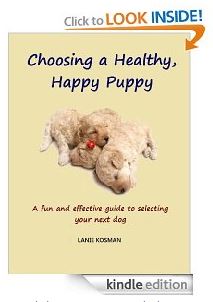 You can buy Choosing a Happy, Healthy Puppy from Amazon instantly. You can be learning everything you ever wanted to know about choosing the dog that's right for you within minutes of clicking this link to Amazon.
Contact us if you have any questions or concerns.
Choosing Your Perfect Dog