Do dogs really need a life vest?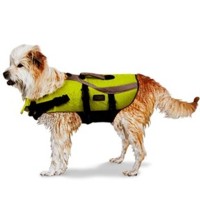 Most people believe that dogs are naturals in the water. This is a common misconception; some dogs hate the water and will panic if they fall in unexpectedly. Some dogs like greyhounds have almost no body fat, and so don't float well, and get cold in the water quickly. Breeds like labs love the water, but can run into trouble as they become older or overweight. Even fit water dogs can become tired when overexerting themselves in the water, and can drown from this fatigue.
Dogs are also just as vulnerable as people in a boating accident. A dog can be injured during a boat accident, making it difficult for the dog to swim. Dogs can also jump off boats when you're not looking, and drown while waiting for you to rescue them.
Besides, a dog life vest is ridiculously cute. Your dog will be the hit of the party in snazzy new waterwear.
Paws Aboard sells some of the best designer dog life vests out there.
What's the difference between a dog life vest and a dog life jacket? 
Dog life vests cover the front of dog's body. A vest gives a dog more movement and freedom than a dog life jacket. Life vests are usually used in recreational activities like swimming pools.
Dog life jackets are more buoyant than vests, but also cover more of a dog's body. Dog life jackets are usually used in situations that are potentially more dangerous, like deep or turbulent water, boats, or near rough ocean waves or undertows. Jackets can restrict a dog's movement more than a dog life vest. Some dogs are highly resistant to the confines of a dog life jacket may be less resistant to smaller, lighter dog life vests.
You'll probably pay less for a dog life vest than a life jacket. Dog life vests are also smaller, with less buckles, making vests easier to put on and take off than a life jacket.
What should I look for in a dog life vest? 
The best dog life vest will be comfortable for your dog, a bright color for safely, and made of a durable, easy to clean material.
Bright color
A bright color can make it easier for you and rescuers to see your dog. Reflective strips are a great addition, and can make it easier to see your dog at night or in limited visibility.
Proper fit
The vest should be snug to the dog's body. A snug fit will ensure the dog life vest will stay buoyant, protecting your dog from drowning.
If the vest is too loose, it could come off, defeating the vest's entire purpose. If the vest is too snug, the straps could dig into your dog's skin. You dog will resist wearing the vest, and the vest could chafe, making it uncomfortable, and possible wearing away the dog's fur.
Try to make sure the life vest gives the dog freedom of movement when out of the water. After all, your dog will probably spend a fair bit of time on land or on the boat, while wearing the life vest.
Tip! Once you've found a dog life vest that fits, give it a trial run! Test it in the pool, if possible. You can check to see if it keeps your dog's head afloat, and return it in time if there are problems. A vest that doesn't fit properly can cause your dog to roll over on its side, or even cause the dog's face to go into the water.
Material
Dog life vests are often made of made of thick, vinyl-coated foam.
In contrast, dog life jackets are often made of nylon and neoprene. Nylon and neoprene are both sturdy, durable materials that are easy to clean.
Neoprene is a durable, attractive material, but it can cause chafing, and can be hot.
Here's a quick checklist for what do look for in a dog life vest. Is the vest:
easy to clean?
safe?
comfortable?
buoyant?
easy to put on?
Fashion!
Some may scoff at this, but I say buy the best-looking dog vest that meets all the other criteria. If you feel good about your dog in the vest, she's going to feel good. That means the vest will stay on when you're on the water, which is the main point of the whole exercise. Besides, your dog will love the attention it gets in its cute dog life vest. Dog life vests come in bright, sporty colors, fashion conscious patterns, and even camouflage, if your pup is the outdoorsy type.
If fashion's a concern, dog vests even come in some great designer patterns and colors.
A dog life vest can make your life a lot easier. No more:
constantly supervising your dog by the pool or at the lake
worrying that your dog could panic in the water.
worrying that your dog's fallen in the water. You can relax and enjoy your time by the water.
A dog life vest can make hanging out around the water with your water-fearing dog a lot easier. When a nervous dog gets used to a life vest, they'll learn that it keeps them afloat in water. They often start to relax and play in the water, making your time at the pool or lake a lot more fun!
Look for a store that will let you return the vest, free of charge, if it doesn't fit.
Fitting dog life vests
Finding the right size dog life vests is pretty easy. You can buy a vest either based on your dog's weight or on the dog's chest measurement. To measure your dog's chest measure just behind her front legs.
Dog life vest sizes vary depending on the manufacturer, but generally are in this range:
XXS under 6 pounds. Best for tiny dogs like Chihuahuas, Pomeranians, Toy Fox Terriers and Yorkshire Terriers.
XS up to 15 pounds. Good for small dogs like Toy Poodles, Bichons, Silky Terriers, and Pekingese.
S from 15 to 20 pounds. This size is good for Daschounds, Jack Russels, and small Border Terriers or Boston Terriers, and Miniature Poodles.
M from 20 to 50 pounds. This size is great for Border Collies.
L from 50 to 90 pounds. Good for big dogs like large Labrador Retrievers.
XL over 90 pounds. It's difficult to find a dog life vest for a dog over 90 pounds. In general, it's hard to find gear for giant dogs like Burmese Mountain Dogs.
Tip! Give your dog treats the first time you put on the life vest. This will help the dog associate wearing the life vest with a positive experience.
One last tip! Don't leave your dog unattended when wearing a dog life vest. An unsupervised dog can become tangled in the vest.
Finding the Best Dog Life Vest