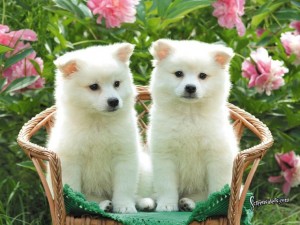 Genetic disorders, including disorders of the blood and lymphatic system, in dogs are well linked to specific breeds. If your dog is a purebred, it is relatively easy for your vet to determine if the dog is at risk of a specific genetic disorder.
In the past, owners of mixed breed dogs had had a harder time determining if their dog was at risk for an inherited genetic disorder. That's changed now that mixed breed Dog DNA tests have come on the market. These tests can help you determine if your dog has a parent or grandparent that was a purebred. Understanding the purebred makeup of your mixed breed dog can help your vet determine if your dog is at risk of inheritied genetic disorders.
In dogs, problems with the blood and lymph systems that have an inherited component include:
Autoimmune hemolytic anemia
Basset hound thrombopathia
Coagulation (bleeding) disorders
Cyclic hematopoiesis
Hemophilia
Histiocytoma
Histiocytosis
Immune-mediated thrombocytopenia
Lymphedema
Phosphofructokinase (PFK) deficiency
Pyruvate kinase (PK) deficiency
Rare red blood cell abnormalities
Thrombasthenic thrombopathia
Von Willebrand's Disease
von Willebrand's Disease
von Willebrand's Disease is a common blood disorder among dogs (and people, as well). It is usually mild, and is caused by the lack of a clotting factor in the blood. Dogs with von Willebrand's Disease will bleed longer and more often than other dogs. They may have nosebleeds, and have more bleeding during surgeries (like neutering or spaying). In many dogs, von Willebrand's Disease is not serious, but in a smaller majority it can be severe.
von Willebrand's Disease is an inherited disorder. Genetic testing for von Willebrand's Disease is available for the following breeds:
Bernese Mountain Dog
Drentsche Patrijshond
Doberman Pinscher
German Pinscher
Kerry Blue Terrier
Manchester Terrier
Papillon
Pembroke Welsh Corgi
Poodle
von Willebrand's Disease is seen in many different breeds and mixed breed dogs. It is common in these breeds:
Doberman Pinscher
Scottish Terriers
Shetland Sheepdog
Other breeds that have a higher than normal chance of von Willebrand's Disease are:
Basset Hound
Chesapeake Bay Retriever
German Shepherd
German Shorthaired Pointers
Golden Retriever
Miniature Dachshund
Miniature Poodle
Miniature Schnauzer
Keeshond
Manchester Terrier
Rottweiler
Standard Dachshund
Standard Poodle
Welsh Pembroke Corgi
Genetic Blood and Lymphatic Disorders in Mixed Breed Dogs