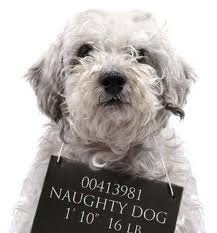 You bank online, date, make friends, order groceries, choose dog names, so why not learn to train your dog online?
The problem with online puppy training is that your pup is in the real world. In other words, eventually, you have to get off your arse and do the work. If you're prepared to do some real work after all your browsing, dog training .com may be for you.
What online puppy training is any good? 
If you do a Google search for online dog training, or online puppy training, you'll come up with millions of results. The trick, then, is to figure out which site is worth your time.
My advice?
First of all, don't fork out your hard-earned money right away for online dog training advice. Most of the online puppy training information you need is out there, for free. If all your Google (or Yahoo, whatever) search comes up with is pay-for-information sites, try doing a more specific search. For example, search for "puppy housebreaking problems" instead of "online puppy training". Try including the magic word "free" in your site to weed out sites that want you to pay for information.
That said, sometimes you can't find what you need for free. If this is the case, before you buy anything, check:
If the dog trainer has experience in the specific problems you're having with your dog.
If the dog trainer has any certifications.
If other people are happy with the dog training .com product. Don't just take their word for it. Google the trainer's product and their name, and see if anything nasty pops up.
Don't pay too much! Seriously, think about how much a good, solid, real-world book would cost. Don't pay more than this for dog training .com advice
Forums have some great information. Just take it all with a grain of salt. Remember, most people are on forums because, like you, they don't have a damn clue. Online puppy training advice on forums can vary a lot in quality.
Try looking for information in the real world!
I know we all forget this, but libraries still exist in the digital age. And they still rock. They're free (or dirt cheap) and have a world of information that my not exist in the dog training .com world.
People at your local dog park can help! It's easy to strike up a conversation, plus your dog will get some exercise. And since lack of exercise and stimulation causes a lot of behavioral problems, this is a good idea all around. Online puppy training may not be able to compete.
Sign up for a local obedience class. Your local humane society should have a list of approved classes.
Dog Training.com: Does Online Dog Training Suck?