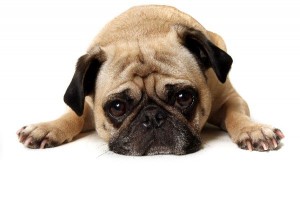 I started this site because I know exactly what it feels like to choose the wrong dog and to have to give it away. It's absolutely heartbreaking, and I wouldn't wish it on anyone.
I'd wanted a puppy for a long time, and after a lot of convincing, my ex. finally agreed. On a whim, the next day I went to pick out a chocolate Lab puppy from a local breeder.
All went well, and I picked an adorable, active puppy from the litter. Sam was a chocolate and yellow lab mix, and the most gorgeous dark golden color, with matching eyes.
I didn't know enough to ask to see the parents before I looked at the puppies, and fell in love. On the way out to my car, I was accosted by a pair of unruly, undisciplined, large, chocolate labs (both of my puppy's parents, it turns out).
The mom and dad were almost completely out of control, jumping up on me and my car, and barking with excitement. The dog's owners said "They're just excited to see someone", and I didn't think any more about it.
Over the next months, my puppy, Sam, turned out to be a big, hyperactive, unruly puppy. Despite spending an enormous amount of time training and exercising him, Sam caused absolute havoc around my house (much, much, more than what's normal for a Lab puppy, even). He also created enormous havoc with my ex., who wasn't particularily happy to have a slobbery, loud, uncontrollable dog around.
I took having a dog seriously. I took him to the park, read dozens of training books, spent hours a day training him. Nothing I did was enough, either because I just wasn't skilled enough at taking care of a dog like Sam, or just because I didn't have enough time and energy.
In the end, Sam ended up being way, way more than I could handle and I had to give him away. It absolutely broke my heart so see him go away, even if I was sure he was in good hands.
I could have saved myself, and Sam, a lot of trouble if I had understood how crucially, vitally, important it was to assess my puppy's parents. I wish I'd known how important it was to consider my lifestyle. I just saw a gorgeous, lovable puppy, and wanted him.
Sam came by his behavior from his unruly parents, and, at the time, I simply didn't have the time or energy to devote to him.
I made two crucial mistakes when getting Sam:
not knowing the importance of a puppy's parents in predicting a puppy's behavior
not getting a lower energy, well–behaved dog. Adopting a calm, older dog may have been perfect for me
I started Happy Healthy Puppy to help prospective dog owners learn about choosing a dog. If I'd been armed with good information before I went looking for a puppy, I probably would have gotten a better match for me.
Why I Started Happy Healthy Puppy