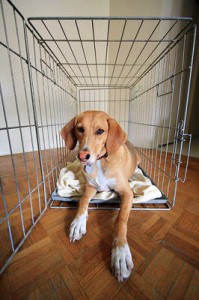 Giant dog breeds like Great Danes require special giant dog crates. A giant dog crate is much larger and heavier than a crate for any other dog. Crates for giant dogs can weigh 70 pounds, not including the dog!
The good news is that a giant dog crate can come in collapsible designs that store flat in a few minutes and can be tucked away out of sight. The bad news is that these crates can be pretty expensive. Expect to spend an easy $200 or more for a good quality, collapsible giant dog crate.
Features to look for in a giant dog crate:
collapsable
a door in door design, allowing you to put in food and water without letting your dog escape
rounded corners to avoid snags and painful bumps
strong construction – wire is best
a crate that's high enough for your dog to comfortably stand up and move around
Giant dog crates aren't the easiest to come by. These models seem to be available in most major stores, though.
Giant Dog Crate Reviews
Petmate's Deluxe Edition Giant Kennel
Measuring 48″L X 30″W X 35″H, it's probably big enough for most giant dogs. The crate has top and side access, making it easy to feed and water your dog without letting her out. It's made of a sturdy wire frame, and fairly easy to put together, and take apart for travel.
Midwest's Giant Two Door Stationary Crates
Like Petmate's crate, Midwest's are made of wire mesh. Crates come in stationary models, best used for people who won't move the crate much, or fold and carry models that can easily be moved. The fold and carry models can be taken apart for storage and transport. The stationary models, like the Midwest Colossal, have a drop-pin assembly at all four corners (no tools needed).

General Cage Giant Dog Crates
General's giant dog crates are a little bit different – they offer a silver zinc plated crate or standard black used by most manufacturers. The black epoxy crate is assembled with two corner pins, instead of four, for easy assembly.