If you're serious about buying a puppy or adopting a dog, borrow or pet sit a dog.
To really get a feel for living with a dog, borrow the dog for as much time as possible: a week or two would be ideal. If you borrow a grown dog, consider how much extra work a puppy would be on top of taking care of a dog.
Deciding to borrow a dog is especially helpful for first-time dog owners, who often underestimate the work involved in choosing a dog. It's easy to get caught up in the idea of how much fun it will be to cuddle with a new puppy and take her for walks.
It's a lot easier to forget how much work it is to walk the dog after work when you're tired to the bone, clean up dog poo in the back yard, feed and water the dog, and clean up after accidents.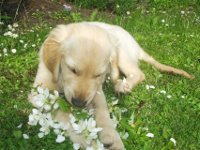 Dogs are a huge amount of work, and it can be hard to estimate how much time they'll take unless you've had some experience. Your friends, family, and co-workers are probably the best people to ask to borrow a dog. They'll probably even be thrilled to have you take care of their pet while they're away on vacation – it's a win-win situation.
Some shelters will let you borrow a dog to see if it's a good match before you adopt. Try to only take home a dog that you seriously think would be a good match. You might not have the heart to give the dog back to the shelter after taking it home! Your neighbors may even have a dog that could use a little exercise. Volunteer to walk the dog. Who knows – you may get to know your neighbors a bit better as well!
Need more ideas on ways to "test out" a new dog? Check out my book for some good suggestions.
Borrow A Dog or Pet Sit For a Friend