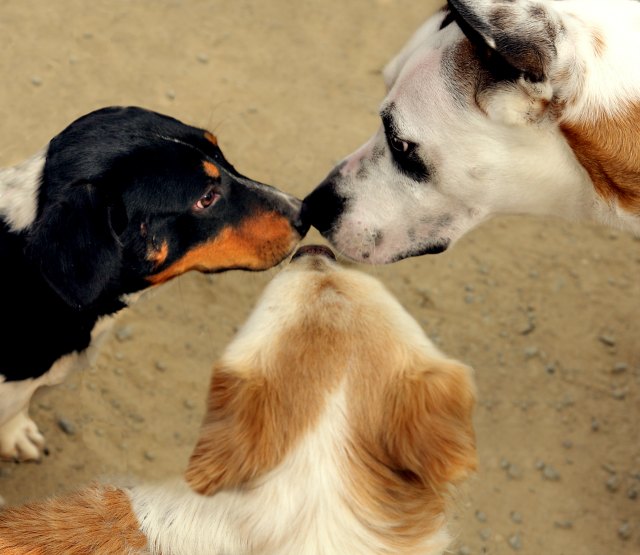 Dog daycare is the perfect solution for your dog if the entire family is gone for a long period of time during the day. It allows your dog the opportunity to enjoy the day outside of a crate, to play with other dogs, and exercise away some energy.
However, just like children, there comes a point when your dog will outgrow daycare. The age of the dog will vary based on their youthfulness but eventually you will begin to notice signs that daycare is not for them anymore.
Since there is no exact age that dog daycare needs to cut off, you should pay attention to signs from your dog.
Medical Issues
One of the biggest reasons to end your dog's daycare plans is medical reasons. However, there is a caveat to this.
If your dog is still relatively young and just needs prescribed medicine, some dog daycares will give your dog the medicine. As long as the medicine isn't for a condition that is making the dog miserable, they can still benefit from an active dog daycare lifestyle.
The medical caveat referenced earlier is for things like arthritis and other conditions that potentially make your dog uncomfortable. Your dog may not feel like being active with the other dogs or could even get hurt trying to keep up with them.
Reluctant to Play
Don't be afraid to ask the dog daycare professionals about how your dog is acting while you're away. If they say that your dog has been active and is enjoying himself/herself, then it is probably okay to still leave them in daycare.
However if your dog is usually active in daycare and then becomes reluctant to play in his or her older age, you may need to consider that they are too old.
Additionally, if your older dog is new to daycare you'll want to find out how they acted. Did they seem relaxed or playful? Or did they seem discouraged and unhappy? The answers to these questions will help determine if you dog is reaching the age where they have outgrown daycare.
Happier at Home
Your dog's happiness is your biggest priority concerning them. If your dog is still excited at the prospect of going to daycare, even at age fifteen, then by all means keep bringing them to daycare.
However if your dog is reluctant to go to daycare and no longer looks forward to it, they may be getting too old.
Many times a dog will just become much more comfortable and happy in their home. It is the surroundings they are happiest in. If you're able to make the comparison between their attitude while in daycare versus at home, you should have a good idea if daycare is still in their best interest.
Young Dogs Are an Annoyance
Just like an old man yelling at kids to "get off his lawn", older dogs will often become annoyed with their youthful counterparts.
The barking, sprinting, chasing of tails, jumping, and instigating becomes too much for older dogs. Sure, the older dog still may enjoy the occasional game of fetch, but it less frequent and for shorter durations.
What Now?
If your dog is showing signs that they are too old for daycare, a potential solution is to reduce the amount of hours your dog is in daycare. Many places will offer half day options for daycare. This allows your older dog to get some healthy exercise in without overexerting themselves. It also allows them an early reprieve from younger dogs who might be pushing them to play constantly.
In fact, gradually reducing them down from full day daycare to half day is a great way to transition them to being at home throughout the entire day. Eventually your dog will become too old even for a half day of daycare. At this point Fido wants to enjoy his life sunbathing and resting his head on your knees.
In conclusion, the key to determining the answer to the question "how old is too old?", is entirely up to you. You understand your dog better than anyone else and you should be able to get hints from their demeanor, body language, and overall attitude. There is no definitive age when a dog becomes too old for dog daycare.
Andrew Fujii is a marketing professional with expertise in digital/web and content marketing. He is also a copywriter for multiple agencies producing copy for blogs, articles, websites, product packaging, mobile apps, and more.
https://plus.google.com/u/0/+AndrewFujii2/posts
http://www.linkedin.com/in/andrewfujii/
How Old Is Too Old For a Dog Daycare?